Got the Utterly Weird Gift from
Mr. Goober
already!
TANG TANG TANG TANG!!!!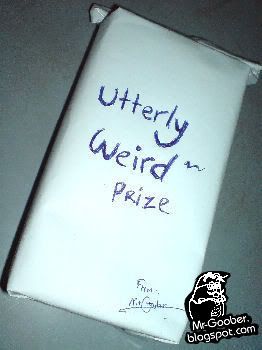 HEHE...mr. goober show u already right?
Too bad, I do not have any camera with me when I received it. So I can only shake it and guess the content.
Still remember the black box experiment you did in Form One?
*shake shake*
My initial guess is ENGAGEMENT SWEET.
*shake shake*
I can confirm that it is something edible.
TANG TANG TANG TANG!!!
It is TORA!!!
hahahhahahaaaa....could this be my first and only TORA?
THANKS, Mr. Goober. I hope
chen
and
papercrazy
wont steal it from me. That 2 ladies love kiddy memory so much! ;p
Hee...opening up Tora, and I found the chocolate coated biscuit balls and toy.
Swallowed up the 8 balls and examined the toy.
Mr. Goober, *uhuk uhuk* I think yours truly here do not know how to play with the toy la!! BOOHOHOHOOOOOO